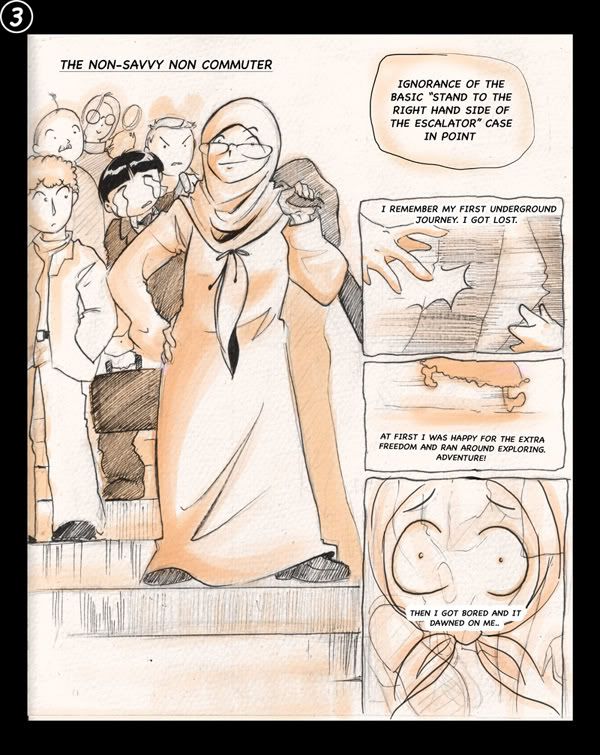 I have this e-pal, a young Libyan-British cartoonist named
Asia.
She was a student of
John McCrea's
during a
comic book art workshop
he worked on in the UK.
Asia is quite talented and because she's an outspoken Muslim female cartoonist that chooses to wear
hijab
(cover her head), she sometimes finds herself targeted by the media, who want her to speak for all Muslim women or something similar. I think it's probably a little embarrassing, and she always points out that she speaks for herself and not an entire generation, nationality, or gender.
She was recently tapped to be one of eight artists to provide art for the London Underground as part of the 100 years of the Piccadilly Line celebration. I have a thing for public art, especially on subways. I'm still hoping someone finances
Roberta's proposed piece.
Asia's piece adorns walls at Piccadilly Circus station, which is a big deal in London.
Here
is the London Tube's mention of Asia. Unfortunately, the art is reproduced so tiny on the site that you can't read it. I have a PDF if anyone wants to read it. (Just email me.) Or if you're in London, please go over to Piccadilly Circus and have a look!
If you're not in London, you might have to wait for Asia's graphic novel, which is coming out from Bloomsbury some time next year. It's about growing up partially in Libya and partially in the UK, but mostly about self-determination. No one tells Asia what to do. She wears
hijab
out of pride and choice.